Island Park Idaho Things To Do
The first time I visited this wonderful mountain recreation area, it was clear that there are more things to do in Island Park Idaho than I could accomplish in a week. I had no idea what Island Park was before I visited for the first time. We stayed in a family cabin on Robin Circle where the Henry's Fork river winds its way between Box Canyon and Last Chance. I had no idea that Last Chance, with its little gas station and quick market, was only the beginning of the longest main street in the USA stretching 33 miles through forests, flat land, and bodies of water that all lead to a quick drive to Yellowstone National Park. So you really need to plan your trip if it's your first time.
There is a lot to take in, so be prepared and plan your vacation as much as you can. You will need a well-planned list of things to do or you will drive many miles back and forth between recreation areas and landmarks. You'll need to learn about cabin rentals in the area or hotels, the best restaurants to eat at, where to buy supplies if you are camping, where to rent snowmobiles in the winter and rafts and quads in the summer, where the best fishing holes are, how to get a fishing license, and more. If you like the place enough, you can even schedule Island Park real estate agents to show you cabins for sale. And don't forget your map. Cell services aren't always the best up here!
Harriman State Park
If you are traveling from Idaho Falls, the first major attraction you'll come across on your drive through Island Park is Harriman State Park. For some reason, many people leave Harriman off their to-do list. Don't. You really don't want to miss this place. It is nearly 16,000 acres of beautiful rivers and streams flowing through forest, meadows, and opens spaces with some of the most beautiful vegetation Idaho has to offer. And the wildlife is plentiful. You can expect to see deer, moose, elk, swans, and world-class fishing while you explore. In the winter the park turns in to over 20 miles of well-groomed cross country skiing and snowshoeing trails. You can find more information about where to stay at Harriman state park by calling their hotline at 208-558-7368.
Mesa Falls Observation Walkway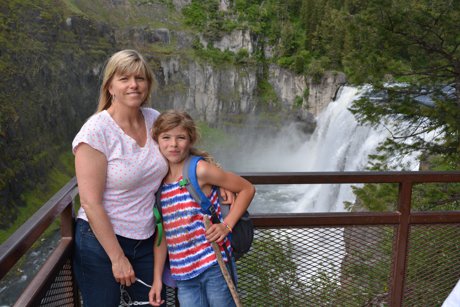 If you are traveling from Ashton Idaho, and choose to take the scenic route to Island Park, you will most likely take HWY 47 through Warm River and the Mesa Falls Scenic Byway. This is a special treat if you like to see the sheer beauty and power of waterfalls as they make their way through the forest. Mesa Falls is absolutely beautiful at any time of the year you can reach it. In the spring and summer, you can visit the cabin at Mesa Falls to buy treats and see pelts of many of the local wildlife. And if you're lucky, they will have the telescope set up on the porch where you can spy on the osprey nest high above the falls. The path to the observation area of the falls is not difficult, but there are a good number of stairs, so prepare yourself for a brisk descent and climb, but it is well worth it. HWY 17 connects to HWY 20 where you will continue your trip through Island Park.
Last Chance, Island Park Idaho
Meandering further down HWY 20 with the Henry's Fork River to your left, you will reach Last Chance, a great place to stop on your trip to get gas and a few snacks at the Shell gas station, or stay for a night at the Trout Hunter Lodge. Last chance is home to Henry's Fork Anglers fishing supply shop, Island Park Adventures, TRR Outfitters Fly Shop, and several other small shops. It's also home of the Angler's Lodge where you can stay for the night and have some great food and drink.