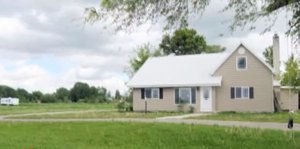 Imagine buying a house and finding out that it is a snake house... literally. That is exactly what happened to the Ards and the Sessions when they unknowingly purchased the Rexburg snake house! That's right, two families in less than ten years purchased a home with thousands of snakes in the walls, in the crawl space, and just about anywhere a snake could slither into.
The nightmare for these two families happened at 675 W 5000 N, Rexburg, ID 83440 between 2006 and 2011 when the home was eventually taken off the market. On the Snake River Multiple Listing service the home looked like a great starter home with just over 2500 square feet of living space, five bedrooms and 1 bath. The house sits on plenty of land for kids to roam about and play. But once the snakes started appearing, the kids had no desire to stay in the house or play outside of the house. In one news story, the Sessions family was interviewed about their experience. Mrs. Sessions reported that her children were having nightmares about snakes and drawing pictures of snakes attacking them in the kitchen and in their bed. She said the snakes got so bad in the house that they couldn't walk around without shoes on in fear they would step on a snake and it would bite them.
The snake house was limited to garter snakes which are not venomous. They are basically just creepy and would bite when provoked. It was impossible to walk around the house at night without stepping on them.
The Rexburg Snake House on Animal Planet, AP News, Local News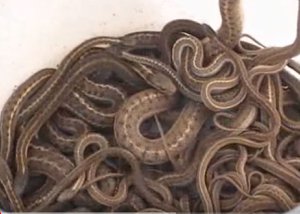 The snake house became so well known that it was actually featured on several news stations and featured on Animal Planet. As knowledge of the problem spread, it became apparent that the home would not sell again. In fact, it is now completely removed from Zillow with the exception of the following notice.

"Sits atop a hibernation home (hibernacular) for Garter Snakes. See coverage by Animal Planet on youtube, or google more information.
The associated press did several stories on the home :https://www.youtube.com/watch?v=JhlYDuMdBFA
The family finally filed for bankruptcy and the home is now bank-owned as of 2019.